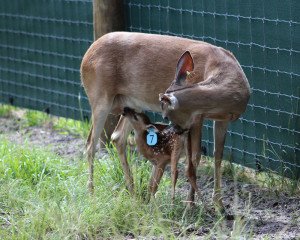 BDRL Whitetail Paradise Farm works closely with its customers to fulfill their needs by producing some of the best breeder does in the state of Florida. Whether you are looking to purchase breeder does to improve the genetics and environmental tolerance in your breeding operation or to supplement your preserve with excellent genetics that will survive and thrive, we are here to help. We sell does each year to our existing customers but we are eager to supply your demand.
All of our breeder does have Texas genetics, most of which are 100% Texas. This "Texas Toughness" insures that they have the disease resistance and environmental tolerance to survive and thrive in Florida, whether in pens or a preserve. We DNA test all of our does so we can supply our customers with pedigrees, thereby proving that these does are the real deal. Additionally, BDRL Whitetails has the largest variety of Texas Foundation does in the state of Florida; Frauline, Vickie, Mustang Creek, Clint, Bar None 536 and more.
At BDRL Whitetail Paradise Farm we sell our breeder does either bred or open, depending upon the time of year and our customers request. We take great pride not only in the breeder does we produce and sell, but in our customer service. We want every customer that we meet to be a return customer, therefore we price our does to sell and approach each sale as if it was with a friend.
For more information on our breeder does and doe fawns for sale, call us at 561-762-2983 or 772 -888-6554.